Belt conveyor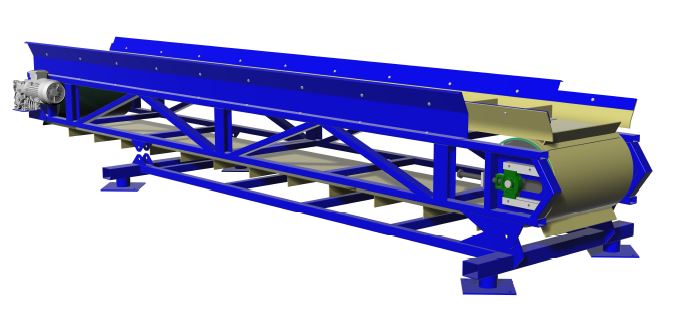 A belt conveyor is a machine – a means of transport from the category of conveyors, which is used mainly for the transport of bulk or semi-liquid materials over a shorter distance. However, it can also be the transport of individual smaller items, such as luggage, packages, etc.
Belt conveyors can work in several height levels. You can use them in sorting, packaging and assembly lines. It is suitable for transporting pallets, boxes, bags, finished products and raw materials. They combine perfectly with other conveyors and with machines in automated operations.
Conveyors with belts work in a horizontal or inclined position and can handle inclines of up to 50 degrees. They easily carry the load to a higher floor or, conversely, reduce it to the level required for loading and handling. They can move various boards, piece goods or objects with more complex shapes. Unlike roller conveyors, they are also ideal for transporting bulk and semi-liquid material. Many companies use them, for example, to move sand, coal, cement, iron ore, salt or grain.
The machine consists of a frame or a supporting structure of the machine, on which rotating rollers are mounted, which form a fixed travel path for a moving (rubber, textile, plastic) belt, along which the relevant material is transported. The belt conveyor can be designed as a device intended for transport in a horizontal position (eg transport of bulk material) or for transport in an inclined position (eg transport of sand or gravel on construction sites or transport of crushed stone in quarries). The machine belt is usually driven by an asynchronous electric motor via a drive drum on which the conveyor belt is mounted.
Photo: